Click here for Temple Sholom constitution and bylaws.
Click here for Temple Sholom membership application.
Temple Sholom is a warm, welcoming place
Our Temple Sholom family is comprised of individuals, families, singles and couples from differing backgrounds and interests drawn together by the mutual desire for a meaningful Jewish experience. Our congregation is a broad mix of ages, educational and religious backgrounds. This diversity makes Temple Sholom an exciting, interesting and inspiring place to be.
The social and intellectual needs of our members are met in many ways through a wide variety of events and activities.We are a busy temple, with adult education courses, special events and projects (from putting together a Temple Cookbook, to holding an auction, to enhancing the premises). Cultural activities, guest speakers and member participation mark some of the many opportunities available to our congregants.There are many ways for every member to get involved and be a part of the Temple Sholom family. It's easy to make friends at Temple Sholom.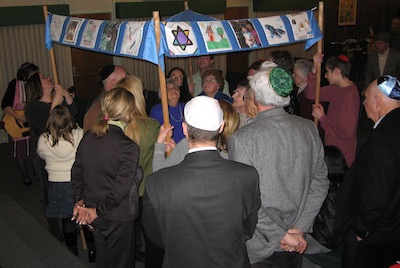 At Temple Sholom, our Rabbi, Michele Medwin, D.Min. blends the traditional and the contemporary within the Reform movement. She balances the familiar prayers that bring comfort in repetition with new and creative changes that keep worship interesting and inspirational. She helps people find modern lessons and teachings in our ancient words, speaks about what is on people's minds, and seeks ways to make Judaism more relevant to our personal lives as well as the larger world. Our worship experience becomes accessible as adults and children enthusiastically participate both in Hebrew and English, and singing, as our Rabbi accompanies us on guitar, to make a "joyful sound."
The Rabbi works closely with the ritual committee to reach a broad spectrum of members. Shabbat, Holy Days and festivals, dinner services, special events and celebrations are all moments when we share the spirituality of Judaism through communal worship. Individual family life-cycle celebrations are especially warm and meaningful at Temple Sholom, as anyone who has attended our Bar and Bat Mitzvah services can attest.
Especially for Children
Children enjoy special attention at Temple Sholom. Our Religious School is dedicated not only to teaching the heritage of Judaism to our children, but to making it enjoyable, so they will carry these teachings for the rest of their lives. How? By working closely with parents; by having our Rabbi play an active role in the Religious School; and by actively involving our children — not only in Hebrew language — but in activities, such as a model seder, or helping lead the Shabbat service.
Starting with special "Shabbat is Fun" (open to young children of both members and non-members), and continuing through Bar and Bat Mitzvah instruction by the Rabbi,Temple Sholom is fully committed to a successful Religious Education program. Children of all ages enjoy coming to Friday evening services: they are encouraged to participate in many different ways.
Why People Join Temple Sholom
Friday evening Shabbat services led by our Rabbi, followed by an Oneg
Rosh Hashanah and Yom Kippur worship led by our Rabbi and Cantor
Tickets for the High Holidays are included in membership
Services for all Jewish holidays and festivals
Temple Sholom Cemetery
Religious school through 7th grade and post B'nai Mitzvah
Individual Bar and Bat Mitzvah training with the Rabbi
Adult education on a variety of Jewish issues and Torah study group
Community Seder for the second night of Passover
Special events such as theatre parties, breakfasts, etc.
Monthly bulletin listing all activities
Temple Sholom is conveniently located on the corner of Route 42 and East Dillon Road in Monticello, New York.This central location makes the temple easily accessible to people throughout Orange, Sullivan and Ulster counties in NewYork and Pike County in Pennsylvania.
For more information call us at 845.794.8731.