Click here for Temple Sholom constitution and bylaws.
Click here for Temple Sholom membership application.
Temple Sholom is a warm, welcoming place
Our Temple Sholom family is comprised of individuals, families, singles and couples from differing backgrounds and interests drawn together by the mutual desire for a meaningful Jewish experience. Our congregation is a broad mix of ages, educational and religious backgrounds. This diversity makes Temple Sholom an exciting, interesting and inspiring place to be.
The social and intellectual needs of our members are met in many ways through a wide variety of events and activities.We are a busy temple, with adult education courses, special events and projects. Cultural activities, guest speakers and member participation mark some of the many opportunities available to our congregants.There are many ways for every member to get involved and be a part of the Temple Sholom family. It's easy to make friends at Temple Sholom.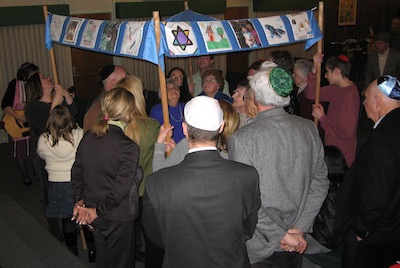 At Temple Sholom, we blend the traditional and the contemporary within the Reform movement. We balance the familiar prayers that bring comfort in repetition with new and creative changes that keep worship interesting and inspirational.
Why People Join Temple Sholom
Friday evening Shabbat services led by our musical duo, followed by an Oneg
Rosh Hashanah and Yom Kippur worship
Tickets for the High Holidays are included in membership
Services for Jewish holidays and festivals
Temple Sholom Cemetery
Shared spirit of volunteerism
Adult education on a variety of Jewish issues and Torah study group
Special events such as theatre parties, breakfasts, etc.
Monthly bulletin listing all activities
Temple Sholom is conveniently located on the corner of Route 42 and East Dillon Road in Monticello, New York.This central location makes the temple easily accessible to people throughout Orange, Sullivan and Ulster counties in NewYork and Pike County in Pennsylvania.
For more information call us at 845.794.8731.