Our Newsletter: The Harbinger

Our newsletter, The Harbinger, is published monthly and is an important source of information about Temple activities and the people who make things happen. Submissions to be considered for inclusion should be e-mailed to the editor. Deadline for consideration is the 14th day of the month prior to publication (i.e. Jun 14th for the Jul issue).
---
Chanukah Brunch - December 5th at Temple

We're having a pot luck Chanukah brunch at 11:30 on December 5th at Temple Sholom. There will be songs and videos and lighting of candles. Family and friends are welcome and COVID protocols will be observed. Click here for all the details.
RSVP and tell what you are bringing to: Sue Kantor skantor914@yahoo.com or Lauren Miller lauren.miller13@gmail.com
---
Shabbat Services are Back to Zoom Only
As Rabbi Medwin recuperates, all Shabbat services will be Zoom only until further notice. The times are the same: schmooze at 6:45, services 7:15-8:15pm.
---
Sholom University - Adult Education
Temple Sholom Community Chanukah Candle Lighting on Zoom
Join us on Zoom Sunday, November 28 at 7 pm to celebrate the first night of Chanukah with our temple family.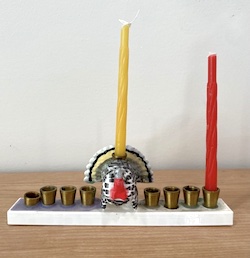 Have your menorahs, candles, and matches ready as we sing Chanukah songs, and light the candles together. The Zoom link will be sent out that Sunday morning and it will be the same one we use for Shabbat services.
---
Hanukkah Film Festival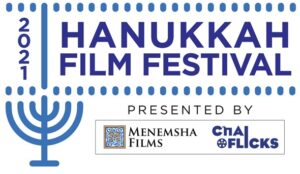 The 2021 Hanukkah Film Festival runs from November 28th – December 5th.  Watch movies with a Hanukkah theme in the comfort of your home. Go to HanukkahFilmFestival.com for more information and to sign up. Use the promo code "SHOLOM" for a discount.
---
Rabbi Featured on CCAR Website
Rabbi Medwin was featured on RavBlog with a blog post entitled "Creating the World of Visual T'filah." Check it out here.
---
High Holiday Sermons 5782 / 2021
Sukkah Party: Sun Sep 19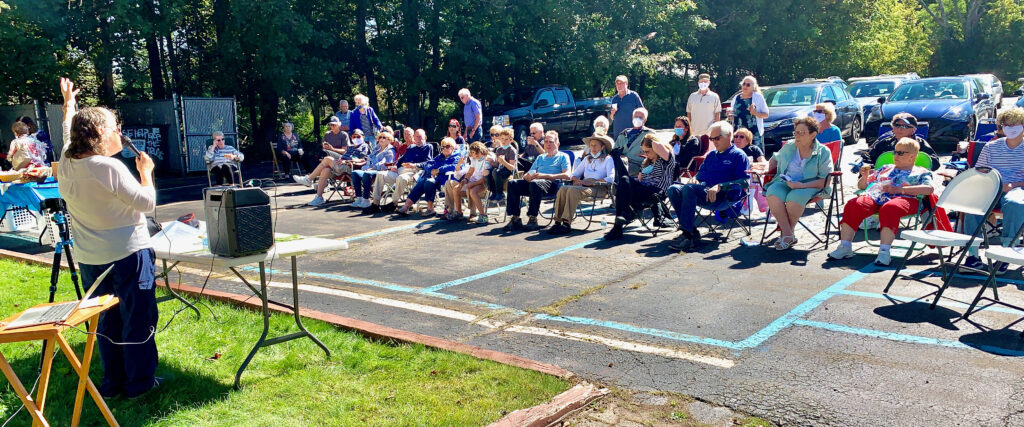 Both the weather and the turnout was great for our outdoor Sukkah Celebration on Sept 19. Between now and Sep 27, feel free to stop by on your own to perform the mitzvah of eating in the Sukkah or shaking the Lulav and Etrog. Only one person or family at a time in the Sukkah.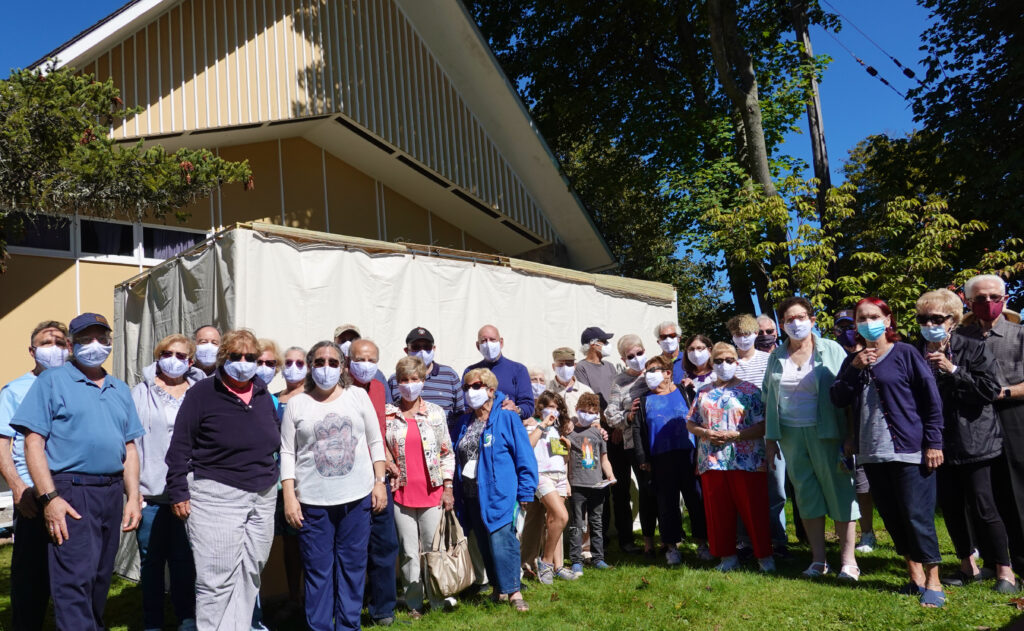 Here is the congregation modeling their custom made Temple Sholom masks!
---
Rabbi's New Poem
Rabbi Medwin was recently inspired to create a new poem, something she hasn't done since high school. Click here to read God Sits at The Easel.
---
Healing from the Pandemic
Rabbi Michele Medwin invites us to take time to collectively reflect over the past year.
Click here to read her message.
---
Visual T'filah: Ancient Roots, Modern Tech
Own your own copy of our Shabbat Prayerbook
The book we use is "Mishkan T'filah: Shabbat." Order: by calling: 212-972-3636 x 241
or online by clicking here. You can order it with or without transliteration, or in large print.
---
A Prayer for Receiving the Covid Vaccine.
Please Sponsor a Virtual Oneg Shabbat
As everywhere else, funds will be tight this year for our temple because of the Pandemic. You can do a mitzvah and be a Virtual Oneg Shabbat Sponsor. Pick a Shabbat you would like to "Virtually Sponsor." Click here for full details on how to be a sponsor.
---
Shabbat Services/Classes/Meetings Via Zoom
Following the guidelines of the CDC and the practices of most congregations around the country, and knowing that most members of our congregation are high risk, we have decided to not have any gatherings at the temple building until further notice. For now, all services/classes are being live-streamed via Zoom. Even if you are not a service regular, you might find participating in services could bring you comfort and calm during these very tumultuous and uncertain times. Join at 7pm for social time, services start at 7:30pm.
If you would like to participate in any of our zoom meetings, and you are not on our temple e-mail list, please click to e-mail Rabbi Medwin for information about joining our classes and services.
You can access a class/service from a smart phone, tablet that connects to the internet, or laptop or desktop computer. You can also phone in, and even though you won't be able to see the video, you will be able to hear the audio.
---
Rabbi Medwin's Office Schedule and Contact Information
The temple office is open for very limited hours (call before you go) however telephone and email messages are being monitored. Rabbi Medwin's office hours are currently on hold. Until further notice please contact the Rabbi via email or telephone. See contact information by clicking here.
---
Guide to Jewish Customs Regarding Death and Mourning

A comprehensive guide written by Rabbi Medwin to help our members and their loved ones understand Jewish practices with respect to death, funerals and mourning. Click here for the pdf.
---
New Book Published by Rabbi Medwin

The book is called, "Alzheimer's Families: Emotional and Spiritual Tools for Coping." It is available at Amazon.com as a paper back and Kindle. This book was written to educate family members, their friends, clergy, mental health counselors and psychotherapists, and others that deal with Alzheimer's family members or Alzheimer's patients. It offers emotional and spiritual tools to help families cope.
---