Our Newsletter: The Harbinger

Our newsletter, The Harbinger, is published monthly and is an important source of information about Temple activities and the people who make things happen. Submissions to be considered for inclusion should be e-mailed to the editor. Deadline for consideration is the 14th day of the month prior to publication (i.e. Jun 14th for the Jul issue).
---
Shabbat Services are Hybrid as of March 18
Starting with Purim Shabbat on March 18, all Shabbat services will be hybrid (in person and Zoom) until further notice. The times are the same: schmooze at 6:45 for those on Zoom, services at 7:15 and Oneg Shabbat following the conclusion of services for those in person. Please review this document for the new COVID protocols and a note about winter weather.
---
Purim Shabbat on Friday March 18
Special Purim Shabbat on Friday March 18th will celebrate the 100th anniversary of the first Bat Mitzvah ceremony in the US. Click here for all the details.
---
Purim Celebration on Sunday March 13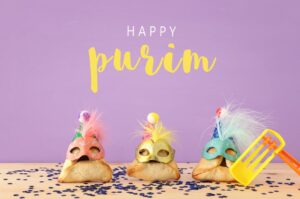 Purim celebration at Temple on Sunday, March 13 at 1:00 pm for adults and children in the community! Click here for all the details.
---
Sholom University - Adult Education
Rabbi's adult education class is starting March 1st:
We will be continuing from where we left off Fall Semester (Exodus Chapt. 29). We will read verse by verse and discuss the various ideas and concepts that come up.  What are the messages we gain from the text? How does the verse speak to me personally?
Click here to download the registration form.
---
Rabbi Featured on CCAR Website
Rabbi Medwin was featured on RavBlog with a blog post entitled "Creating the World of Visual T'filah." Check it out here.
---
High Holiday Sermons 5782 / 2021
Sukkah Party: Sun Sep 19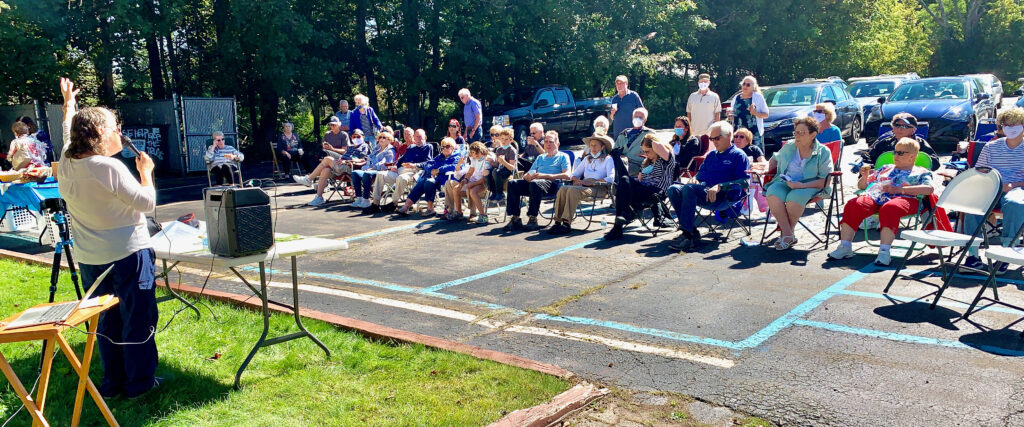 Both the weather and the turnout was great for our outdoor Sukkah Celebration on Sept 19. Between now and Sep 27, feel free to stop by on your own to perform the mitzvah of eating in the Sukkah or shaking the Lulav and Etrog. Only one person or family at a time in the Sukkah.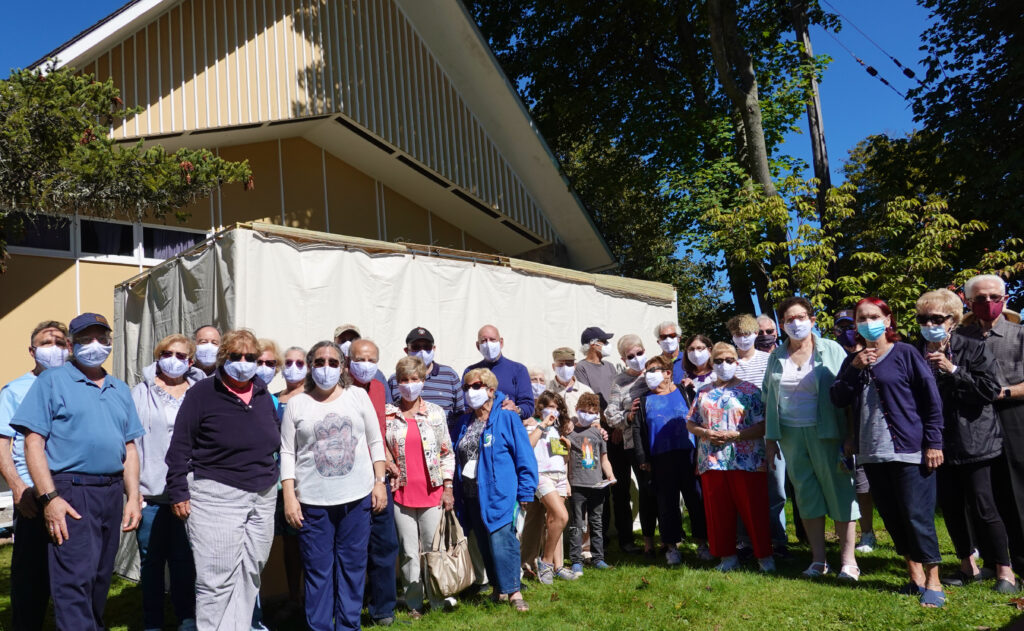 Here is the congregation modeling their custom made Temple Sholom masks!
---
Rabbi's New Poem
Rabbi Medwin was recently inspired to create a new poem, something she hasn't done since high school. Click here to read God Sits at The Easel.
---
Healing from the Pandemic
Rabbi Michele Medwin invites us to take time to collectively reflect over the past year.
Click here to read her message.
---
Visual T'filah: Ancient Roots, Modern Tech
Own your own copy of our Shabbat Prayerbook
The book we use is "Mishkan T'filah: Shabbat." Order: by calling: 212-972-3636 x 241
or online by clicking here. You can order it with or without transliteration, or in large print.
---
A Prayer for Receiving the Covid Vaccine.
Please Sponsor a Virtual Oneg Shabbat
As everywhere else, funds will be tight this year for our temple because of the Pandemic. You can do a mitzvah and be a Virtual Oneg Shabbat Sponsor. Pick a Shabbat you would like to "Virtually Sponsor." Click here for full details on how to be a sponsor.
---
Rabbi Medwin's Office Schedule and Contact Information
The temple office is open for very limited hours (call before you go) however telephone and email messages are being monitored. Rabbi Medwin's office hours are currently on hold. Until further notice please contact the Rabbi via email or telephone. See contact information by clicking here.
---
Guide to Jewish Customs Regarding Death and Mourning

A comprehensive guide written by Rabbi Medwin to help our members and their loved ones understand Jewish practices with respect to death, funerals and mourning. Click here for the pdf.
---
New Book Published by Rabbi Medwin

The book is called, "Alzheimer's Families: Emotional and Spiritual Tools for Coping." It is available at Amazon.com as a paper back and Kindle. This book was written to educate family members, their friends, clergy, mental health counselors and psychotherapists, and others that deal with Alzheimer's family members or Alzheimer's patients. It offers emotional and spiritual tools to help families cope.
---