Our Newsletter: The Harbinger

Our newsletter, The Harbinger, is published monthly and is an important source of information about Temple activities and the people who make things happen. Information that you wish to be considered for inclusion should be e-mailed to the editor. Deadline for consideration is the 14th day of the month prior to publication (i.e. Jun 14th for the Jul issue).
---
Time to Renew Century Club Membership

Renew your Century Club membership by clicking here for more information and the form. Return the form no later than August 3 to ensure that your name and dedication are inscribed on the plaque which will be displayed in the lobby.
---
Temple Card Party, Mon, July 23 11:30-4pm

Get your game together and join us for fun, food, and raffles. $25pp includes a bountiful buffet dairy luncheon with coffee, tea, fruit, and cakes.  Reserve with Paula or through Temple office.
---
Theatre Night at Shadowland Stages, Ellenville: Thurs, July 26, 8pm

This year's Temple Sholom Theatre Night is Honky Tonk Laundry, featuring some of the best country and western songs of the last 60 years. We have reserved the best seats in the house — one can be yours for $36. Seats are limited and reservations can be made by contacting the Temple office, David Harris or Paula Schroeder.
---
Registration Is Open for Religious School
Classes restart in September for kindergarten thru Bar/Bat Mitzvah. The younger children learn about Judaism, holidays, and blessings, through songs, crafts, and bible stories. The older children learn the same plus longer prayers, and they prepare for their Bar/Bat Mitzvah. Contact the office for more information.
---
Guide to Jewish Customs Regarding Death and Mourning

A comprehensive guide written by Rabbi Medwin to help our members and their loved ones understand Jewish practices with respect to death, funerals and mourning. Click here for the pdf.
---
New Book Published by Rabbi Medwin

The book is called, "Alzheimer's Families: Emotional and Spiritual Tools for Coping." It is available at Amazon.com as a paper back and Kindle. This book was written to educate family members, their friends, clergy, mental health counselors and psychotherapists, and others that deal with Alzheimer's family members or Alzheimer's patients. It offers emotional and spiritual tools to help families cope.
---
Please help keep Rabbi Medwin Healthy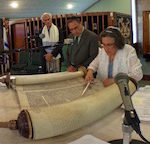 Attending Shabbat services is a time of greeting friends with handshakes and hugs. Rabbi Medwin is very susceptible to cold germs. If you have a cold please use the hand sanitizer provided and refrain from hugs or handshakes. A wave from a distance with a "I have a cold" will explain to her that you care.
---