New Webmaster!
Welcome Walter Teitelbaum, who will be handling changes to our webpage.
---
Rabbi Featured on CCAR Website
Rabbi Medwin, who retired at the end of June, was featured on RavBlog with a blog post entitled "Creating the World of Visual T'filah." Check it out here.
---
Shabbat Services
Check the Temple Sholom Monticello Facebook Page on Friday mornings to see whether services will be held in-person, Zoom only, or hybrid. 
6:45 – Shmooze
7:15 – Service
COVID protocols will remain in place for all in-person services.
---
Our Newsletter: The Harbinger

Our newsletter, The Harbinger, is published monthly and is an important source of information about Temple activities and the people who make things happen. Submissions to be considered for inclusion should be e-mailed to the editor. Deadline for consideration is the 14th day of the month prior to publication, i.e., Jun 14th for the Jul issue. To subscribe, send your email address to the Temple office.
---
Upcoming Primetimer Trips
Wed Aug 17 – Day in NYC on your own. $40 members $45 non members
Wed July 27 – Narrated Cruise on Pride of the Hudson (2 hours) with bus, lunch on your own at mid-Hudson buffet or other choices. $65
Monday August 1 – Card Party from 11:30 – 3:30
Wed Sept 7  – Walking Tour of Lower East Side with professional guide. Stops include Bialystoker and Eldridge Street synagogues, pickle man, Forward newspaper factory, Henry Street settlement, picnic on water with views of Brooklyn. $65 pp
Sept 12-16 Trip to Williamsburg VA, Virginia Beach, and  Norfolk
Call Paula for reservations 845-794-2314
---
High Holiday Sermons 5782 / 2021
Sukkah Party: Sun Sep 19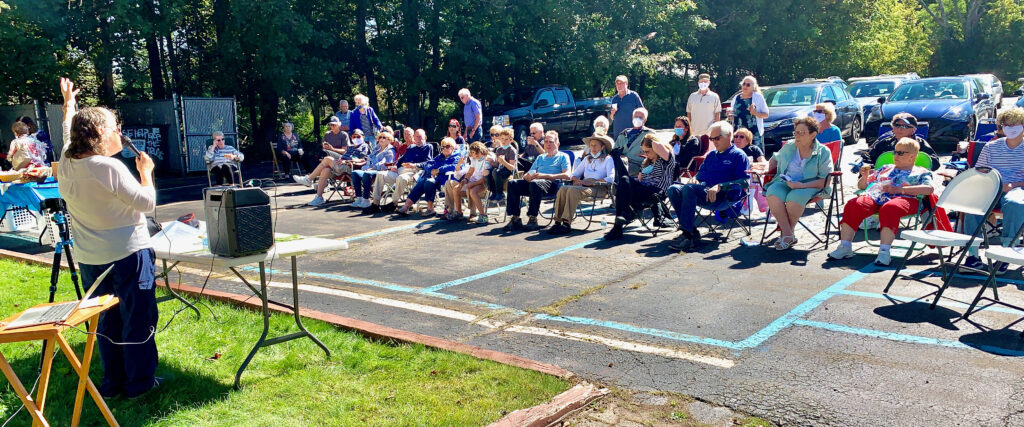 Both the weather and the turnout was great for our outdoor Sukkah Celebration on Sept 19.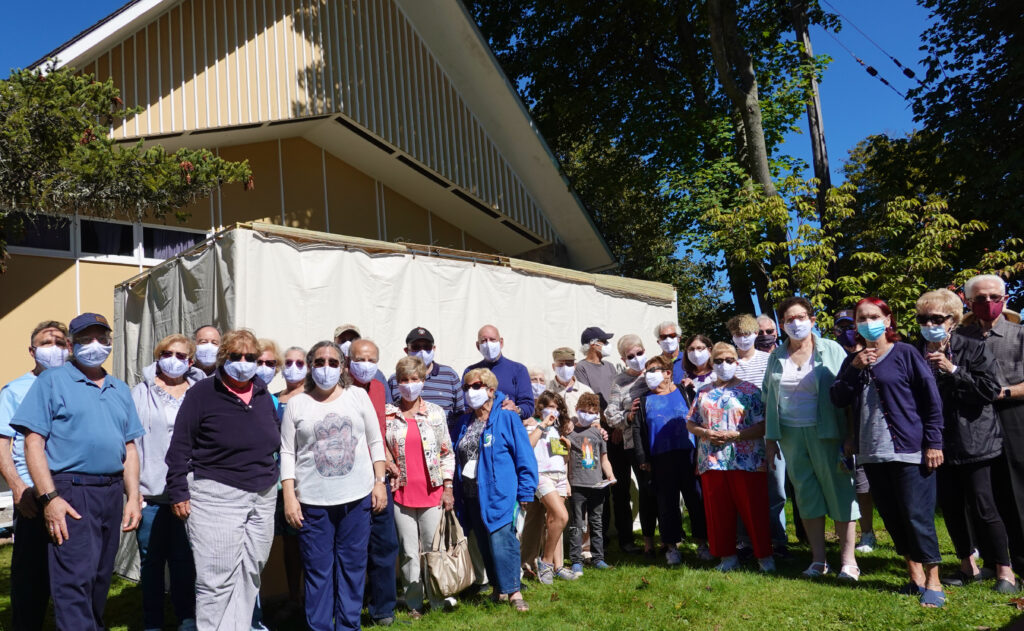 Here is the congregation modeling their custom made Temple Sholom masks!
---
Rabbi Medwin's Poem
Rabbi Medwin was inspired to create a new poem, something she hasn't done since high school. Click here to read God Sits at The Easel.
---
Own your own copy of our Shabbat Prayerbook
The book we use is "Mishkan T'filah: Shabbat." Order: by calling: 212-972-3636 x 241
or online by clicking here. You can order it with or without transliteration, or in large print.
---
Please Sponsor a Virtual Oneg Shabbat
As everywhere else, funds will be tight this year for our temple. You can do a mitzvah and be a Virtual Oneg Shabbat Sponsor or an in-person Oneg Sponsor at the temple with real food. Pick a Shabbat you would like to "Virtually Sponsor." Click here for full details on how to be a sponsor.
---
Office Schedule and Contact Information
The temple office is open for limited hours (call before you go). However telephone and email messages are being monitored. 
---
Guide to Jewish Customs Regarding Death and Mourning

A comprehensive guide written by Rabbi Medwin to help our members and their loved ones understand Jewish practices with respect to death, funerals and mourning. Click here for the pdf.
---