Our Newsletter: The Harbinger

Our newsletter, The Harbinger, is published monthly and is an important source of information about Temple activities and the people who make things happen. Submissions to be considered for inclusion should be e-mailed to the editor. Deadline for consideration is the 14th day of the month prior to publication (i.e. Jun 14th for the Jul issue).
---
Shabbat Services Via Zoom
Following the guidelines of the CDC and the practices of most congregations around the country, and knowing that most members of our congregation are high risk, we have decided to not have any gatherings at the temple building until further notice. Check your e-mails from the temple for up-to-date information. For now, all services are being live-streamed via Zoom. Even if you are not a service regular, you might find participating in services could bring you comfort and calm during these very tumultuous and uncertain times. Mar 27 service is at 6pm. Beginning Apr 3 services start at 7:30pm.
This is the link. Join Zoom Meeting

Or – Dial by your location:  +1 646 876 9923 US (New York). Meeting ID: 314 357 0584
You can access it from a smart phone, tablet that connects to the internet, or laptop or desktop computer. You can also phone in, and even though you won't be able to see the service, you will be able to hear it.
If you are new to Zoom and would like guidance on how to use it, feel free to give Rabbi a call Friday, during the day, and she will step you through it. 607-765-2895. If you have never used Zoom and would like to try on your own, you might want to get on a little early. 
---
Our Pirke Avot Class is Open to All
Even though we are all staying home, we can use this time to enrich ourselves in various ways. Rabbi Medwin wants to help. She is opening up her Pirke Avot class to anyone who would like to participate even if you have not previously registered. We are running the class online using Zoom (see above for Zoom info). If you would like the handouts ahead of time, send Rabbi Medwin an e-mail.
Classes are being held on Tuesdays from Noon to 1:15pm. Connect with this Zoom link.
---
Yizkor Memorial Service Via Zoom: Tue, Apr 14 5pm
According to Jewish tradition, in addition to having a Yizkor service during Yom Kippur, Yizkor is also recited at the end of Passover. Please us join via Zoom to remember your loved ones, may their memory be for a blessing.
---
Rabbi Medwin's Office Schedule and Contact Information
The temple office is closed however telephone and email messages are being monitored. Rabbi Medwin's office hours are currently on hold. Until further notice please contact the Rabbi via email or telephone. See contact information by clicking here.
---
High Holiday Sermons 5780 / 2019
Guide to Jewish Customs Regarding Death and Mourning

A comprehensive guide written by Rabbi Medwin to help our members and their loved ones understand Jewish practices with respect to death, funerals and mourning. Click here for the pdf.
---
New Book Published by Rabbi Medwin

The book is called, "Alzheimer's Families: Emotional and Spiritual Tools for Coping." It is available at Amazon.com as a paper back and Kindle. This book was written to educate family members, their friends, clergy, mental health counselors and psychotherapists, and others that deal with Alzheimer's family members or Alzheimer's patients. It offers emotional and spiritual tools to help families cope.
---
Please help keep Rabbi Medwin Healthy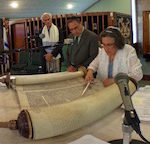 Attending Shabbat services is a time of greeting friends with handshakes and hugs. Rabbi Medwin is very susceptible to cold germs. If you have a cold please use the hand sanitizer provided and refrain from hugs or handshakes. A wave from a distance with a "I have a cold" will explain to her that you care.
---