Our Newsletter: The Harbinger

Our newsletter, The Harbinger, is published monthly and is an important source of information about Temple activities and the people who make things happen. Information that you wish to be considered for inclusion should be e-mailed to the editor. Deadline for consideration is the 14th day of the month prior to publication (i.e. Jun 14th for the Jul issue).
---
Pot Luck Dairy Dinner: Fri Nov 2 at 6pm

Shabbat services will begin after dinner at 7:30. Let us know what you will bring. Please contact Susan Kantor or call Steph at temple.
---
Watch Our Shabbat Service Online: Starts Nov 9th
If you cannot join us in person for Shabbat services at Temple Sholom, you can join us from your computer, Apple or Android device or by phone. We are using the Zoom web-conferencing system. You will be able to see everyone who joins in, so you feel more a part of the community.  To be part of our Shabbat services, click here. Zoom continues through the winter. Join from PC, Mac, Linux, iOS or Android. If you don't have a computer or device, you can listen in by phone: +1 408 638 0968 (US Toll) or +1 646 558 8656 (US Toll). Meeting ID: 314 357 0584
---
Guide to Jewish Customs Regarding Death and Mourning

A comprehensive guide written by Rabbi Medwin to help our members and their loved ones understand Jewish practices with respect to death, funerals and mourning. Click here for the pdf.
---
New Book Published by Rabbi Medwin

The book is called, "Alzheimer's Families: Emotional and Spiritual Tools for Coping." It is available at Amazon.com as a paper back and Kindle. This book was written to educate family members, their friends, clergy, mental health counselors and psychotherapists, and others that deal with Alzheimer's family members or Alzheimer's patients. It offers emotional and spiritual tools to help families cope.
---
Please help keep Rabbi Medwin Healthy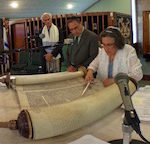 Attending Shabbat services is a time of greeting friends with handshakes and hugs. Rabbi Medwin is very susceptible to cold germs. If you have a cold please use the hand sanitizer provided and refrain from hugs or handshakes. A wave from a distance with a "I have a cold" will explain to her that you care.
---